Saying NO to anyone is not as easy as saying YES! It requires a strong heart, determination and will power. And when it involves our children, all our strength will be overpowered by the love and affection we have for them. Saying NO to your child is surely not an appealing drive. I will be writing a series of posts on the topic – Saying NO to your Child. Travel with me on this blog series and start Saying NO to your Child without any GUILT!
The Impression of NO on Parents & Kids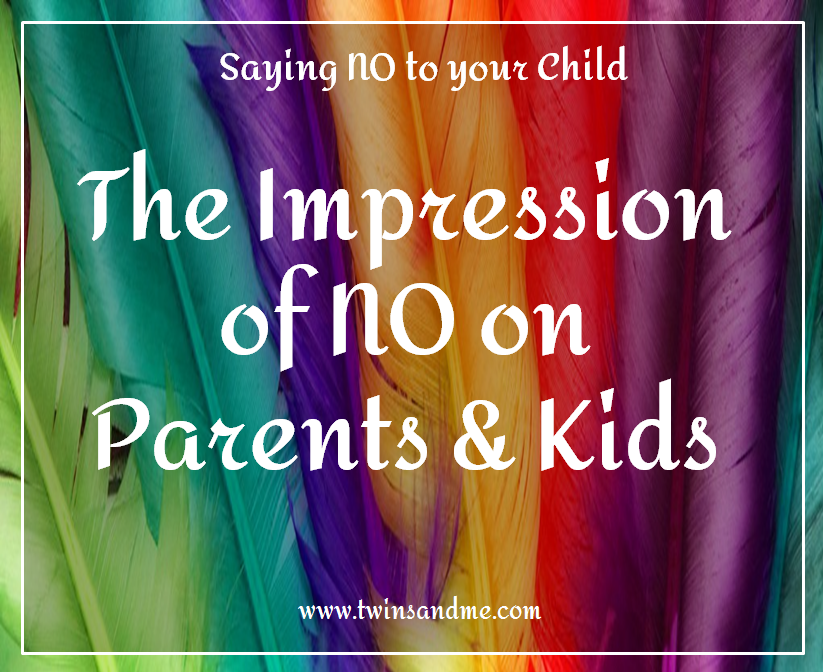 This will be the first post in the series 'Saying NO to your Child'. Here we will find out what impression the word NO has left in the Parents and Kids! We will be exploring the reasons for,
Why children are happy to say NO but not ready to hear a NO?
Why parents scruple to say NO to their kids?
Of course both these are totally interlinked!
The power of NO
NO – Though it Sounds negative, yet it is a strong and powerful word which can bring drastic changes to any situation. Life doesn't always work with YES's. It also needs some NO's to live it the way we wish to. We need a NO, when we have to
Restrain someone (whom we care), from doing certain things for their well being
Reject things which are against our morals, which we don't want to do
Protect ourself from any dubious conditions
Oppose repression at work or anywhere else
Not everyone easily utters a NO. We hesitate to say NO, because of
The fear that we will hurt someone we love
Being introvert and the lack of courage to oppose a public opinion
Being submissive to power and authority
And that is the power of this two letter word. Our mind says it often but it's not so easy to speak it out.
---
Recommended : How to fix tooth brushing problems with toddlers?
---
Saying NO to your child
Of all the reasons I cited above, most of the time our hesitation is predominantly carried by the fear that we will hurt our dear ones. There are people who strongly oppose and never give up their opinion at work. Even they hesitate to say NO at home as they worry about shattering their loved ones.
Especially if the request is from our little prince/princess and we have to respond with a NO, needless to say it will definitely be the most distressing moment.
Why children are not ready to hear but happy to say NO?
Children are children and they can never think from the shoes of an adult. They are not exposed to the world of negatives and all they have seen so far is love, happiness, fun and a YES for everything. They are pampered by each and everyone.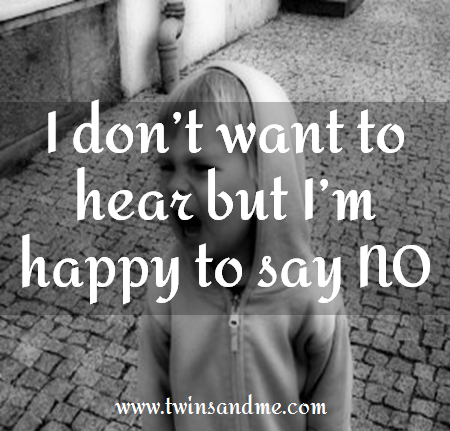 As infants they grow up thinking "Oh this world is beautiful. Everyone loves me. I have everything I want. It's adorable"
But once they are into the toddler world and start exploring things, they hate when they hear a NO.
Their mind swirls thinking, "They were so kind to me so long, why are they stopping me now? Why are they not allowing me to do this? But I love doing it! I don't like to hear NO again!"
Then starts the screaming and tantrums. Their little minds and hearts are not ready to digest that they are denied something.
Toddlers dislike to hear a NO, however they are so pleased and happy when they get a chance to spill the word back to us. They relish the power they acquire. Result is when you feed them, when u get them dressed, when u give a bath, when you potty train all you hear is a big NOOOO from them.
They want to show their power and remind you "I am still not a baby Mommy! I am growing as a person! ".
---
Recommended : Stay at Home Mom – the most undervalued Job
---
Why parents scruple to say NO to their kids?
As parents we adore our kids and nourish them with our love and care. We aspire to bring all the happiness to them and we are happy when we see them happy. We never want to get that pleasure disturbed. We never want to hurt them and watch them feeling annoyed.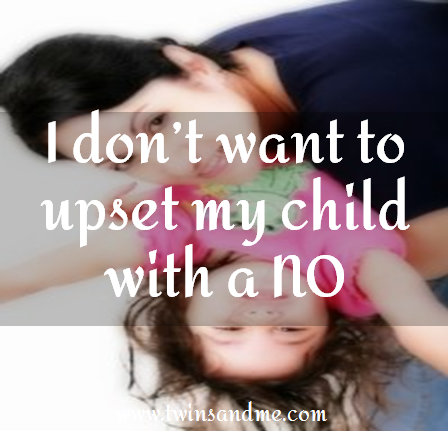 All this is fine until they are infants. But once they are growing and ready to face the real world, it's high time we need to groom them. And this often requires us to say NO to certain things. But do we say this easily? NO! Many factors hinder our way. We don't want to
See them disappointed
Hurt their tiny hearts
Watch them melt down
Get them into tantrum mode
We want things to go smoothly with our kids. This many times changes our NO's into YES's! We hold on to temporary fixes although we know this might not be serving good to our kids in long time.
Are we forming the right foundation for their future by not saying NO? May be NOT! It's something we need to scrutinize by weighing the pros and cons.
Look out for my next post in this series in which I will discuss the reasons why you should be saying NO to your child!
Is it difficult saying NO to your child and what is stopping you? Please feel free to share your experience in the comments!
Posts in the series 'Saying NO to your Child'
Pin this for Later

---
Image Credits :  I don't want to hear but happy to say No by mdanys via Foter.com / CC BY ; I don't want to upset my child with a No by David Castillo Dominici at FreeDigitalPhotos.net
Note : Added text to the original images used  in this post.