Sebamed is a German brand which manufactures medicinal skin care products. They have an extensive range of products for Sensitive Skin, Anti-Ageing, For Men, Anti-Dry, Clear Face, VISIO, Extreme Dry Skin, Baby Sebamed, and Suncare. Dear mamas, today I will be reviewing two products from Sebamed one for your baby and one for you. Read more to find my review on Sebamed Baby Lotion and Sebamed Feminine Intimate Wash.
Disclosure: I was presented with "Sebamed Baby Lotion pH5.5 100ml"  & "Sebamed Feminine Intimate Wash pH3.8 200ml" products for free to review. I have used the product personally and all opinions are my own. My view has not been influenced or biased by the product owners/sponsors in any way. This is not an expert advice and just a product review from a peer mother.
Jump To
Sebamed Baby Lotion pH5.5 (For your Baby) – Review
What does the product claim?
Sebamed baby lotion claims to be designed specifically for the delicate skin of babies and it protects against dryness. Its pH value of 5.5 is a safe option for the baby's skin. Here is what else they described in their product package.

Ingredients
Aqua, Glycerin, Cetearyl Alcohol, Sorbitol, Paraffinum liquidum, Sodium Lactate, Decyl Oleate, Chamomilla Recutita Extract, Lecithin, Ascorbyl Palmitate, Allantoin, Caprylic/Capric Triglyceride, Sodium Cetearyl Sulfate, Dimethicone, Sodium Citrate, Parfum, Alcohol denat., Benzyl Alcohol, Phenoxyethanol, Sodium Benzoate.
Our experience with Sebamed Baby Lotion pH5.5
As like any mother, I am always concerned about introducing new products for my kids. Whether it is trying a new food or using a new baby care product or anything in the world, I go ahead only when I can convince myself that it will do no harm for them.
I think twice, thrice, read all the internet reviews I could find, get expert advice, gather views of fellow moms and finally try it myself before using it with my kids. The prep list can go endless until the protective Mommy in me is assured 'Ok Mama ! you can give it a shot'.
The same happened with Sebamed Baby Lotion. Though Sebamed products are quite popular we have never gone for it as we were more inclined to the native, traditional brands which our family was well used to. So when I was presented with Sebamed baby lotion, I was in a total dilemma.
I analyzed the ingredients, googled all doubts, read many product reviews and consulted with some of my mommy friends. There was a positive wave.
Product features which persuaded me,
pH value of 5.5
Includes chamomilla recutita extracts which can waive away skin irritations and inflammations
Free from harmful chemicals like Silicon oil/ Parabens/ Propylene glycol/dioxan
Non-greasy
I was convinced but wanted to try it myself first.
The lotion had a light fragrance, not too strong. It was not greasy and moisturized the skin very well.  It kept the skin fully hydrated for a good time. I didn't feel any irritation and there wasn't any darkening.
How well it worked with my Kids?
After a few days I started using it for my kids. They liked the mild smell and were too happy about trying a new product(which I rarely do as we stick to our regular brands).
They both have dry skin and Sebamed Baby Lotion had a good effect in keeping their skin hydrated.  The lotion was non-greasy and gave a smooth feel for most part of the day.
They didn't have any adverse effects like irritation or allergy. It, in fact, helped to fade away few mosquito bite marks in their legs. I found one or two reviews questioning whether it darkens your baby's skin. Well, it didn't happen in our case.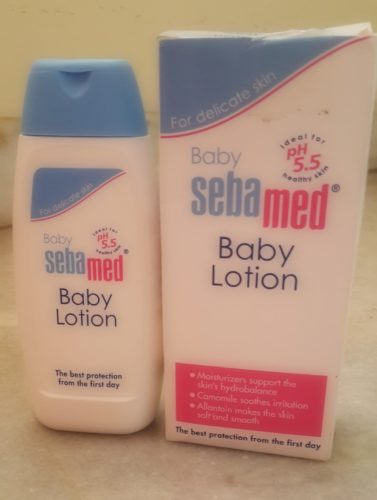 Pros
Non-greasy and absorbs well
pH value 5.5 equal to baby's delicate skin
Free from harmful chemicals
Have anti-inflammation and anti-irritation properties
Clinically proven to be suitable for newborns and dermatologically tested
Mild fragrance
Spill free packaging
Detailed description of the product, its ingredients, and properties.
Cons
Price – The product pricing is somewhat high.
Quantity – You may have to use quite a large amount of lotion to moisturize your kid's full body in case of toddlers. But for newborns, the quantity needed will be less.
My Verdict
I see only two drawbacks(bit high price and quantity to be used for toddlers) which I feel you can fairly compromise for a good quality product. You can definitely consider Sebamed Baby Lotion in your baby care product list. Sebamed Baby Lotion will be apt for newborns yet suited very well for my toddlers' skin too. However each child's skin tone is different, so it is good to buy the product and try it yourself once.
You can shop for Sebamed Baby Lotion here
Sebamed Feminine Intimate Wash pH3.8 (For you) – Review
What does the product claim?
Sebamed Feminine Intimate Wash claims to be specifically formulated to meet the needs of feminine hygiene for the very sensitive skin of the genital area and clinically tested.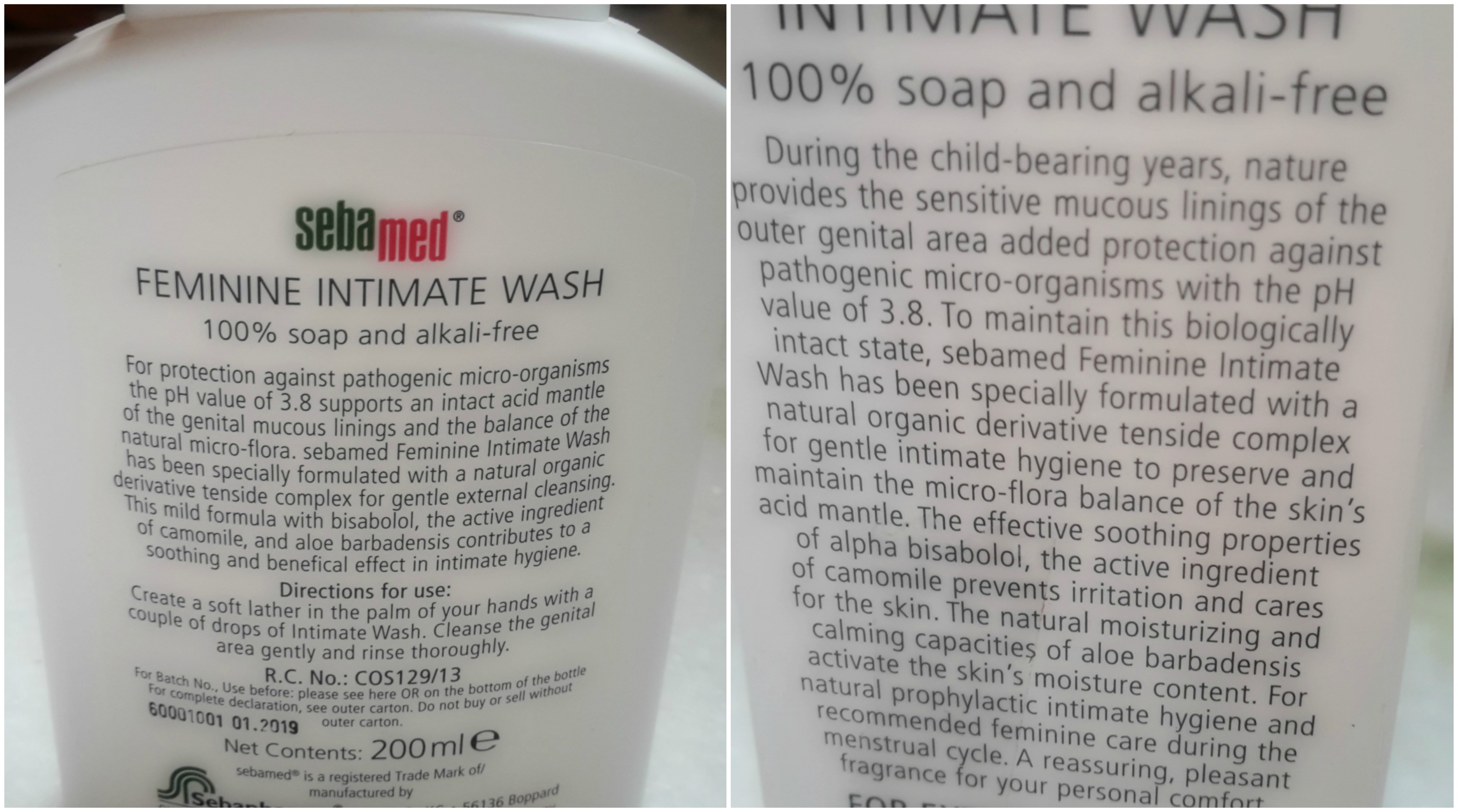 Ingredients
Aqua, Lauryl Glucoside, Sodium Laureth Sulfate, Cocamidopropyl Betaine, Aloe barbadensis leaf gel, Bisabolol, Sodium Lactate, Hydroxypropylcellulose, Parfum, Sorbic Acid.
The importance of Feminine Washes
In a country like India, where women are still striving hard to prove their significance in society, there is no wonder if they are not too concerned about their personal hygiene. There is literally very little awareness about Personal Female Hygiene among Indian Women. This is where feminine washes come into the picture. They help to keep your intimate areas free from infection.
Some of you might have heard it through your gynecologist or a friend or through some internet articles. But normally we don't realize how to keep our intimate parts clean and safe until we are down with some vaginal infection. Only then we find the necessity to concentrate on our personal sanitation. Our gynecologists often introduce us to the feminine wash.
I have been using feminine washes for quite a few years. I felt the significance right from the very first use. We should consider Feminine washes as equally important as our Face Wash.
My experience with Sebamed Feminine Intimate Wash
For a long time, I have been using the same brand suggested by my Gynecologist. Again I had the reluctance(like how i felt to change the baby lotion) and hesitation when I received Sebamed Feminine Intimate wash to try and review.
After some quick look at the ingredients, customer feedback and reviews from my friends, I decided to give it a try.
I used a tiny amount of Sebamed Feminine wash. Like shower gels, it was a semi-transparent liquid and created a fine lather. The fragrance was not too strong. It controlled the odor. It didn't create any irritation or burning sensation.
While washing the sensitive areas it is necessary to take proper care to clean only the external genital area gently and then rinse thoroughly. I felt over using the product may create too much dryness, so I restrict using it only once a day. It keeps your skin at pH 3.8 balance, it is Soap and alkali free, possess anti-bacterial properties – all these factors are quite promising.
It has natural organic derivative ingredients but however, it includes few chemical ingredients too like Sodium Laureth Sulfate. There is another variant which is suitable for menopause woman with a pH value of 6.8.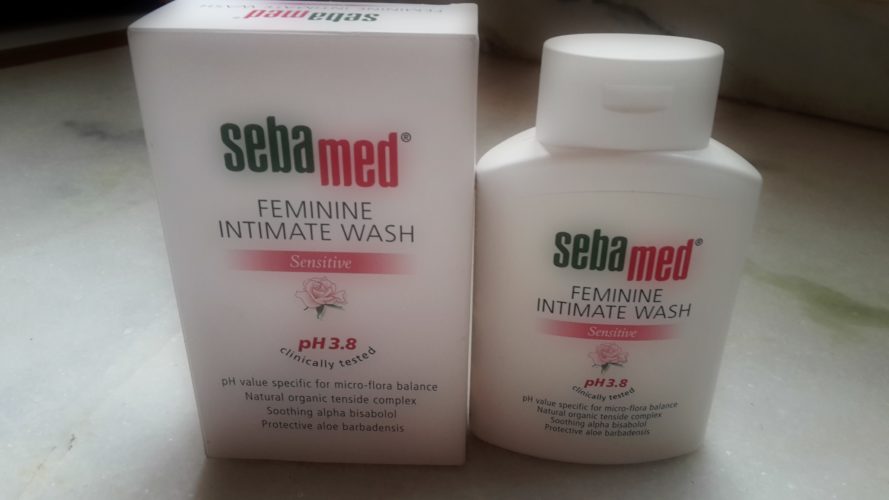 Pros
100% Soap and Alkali-free
pH 3.8 equal to the pH level of the intimate area
gentle on the sensitive skin
Mild Scent
Controls odor
A tiny amount is sufficing for a single wash, so a 200 ml bottle can last longer
Spill-free packaging
Detailed description of the product, its ingredients, and properties.
Cons
Includes a few chemical ingredients
Price
My Verdict
It was a good experience trying Sebamed Feminine Intimate Wash. It has some natural derivatives but includes a few chemical ingredients too. Considering the fact that it is soap and alkali-free is a relief. The price seems to be higher. The quality is better, so we can think about compromising the price. Also, you require only a small amount for every use, so you need not have to buy it very frequently. For good personal hygiene, you can definitely give this product a try.
You can shop for Sebamed Feminine Intimate Wash here
Hope my review on Sebamed Baby Lotion and Sebamed Feminine Intimate Wash was useful. You can check more about Sebamed Products @ their official website.
*This post includes affiliate links.