A few days ago, I happened to pop up on a post from Matrikas Paper Products about their Creative Woman's Journals. The attractive design and color of their journals were very much appealing. Being a lover of diaries and journals, I decided to grab one copy for me.
I registered for their gorgeous pink journal meant for dreamers depicted with a stunning butterfly. With all the vacation chaos and full-time parenting, I totally forgot about this. But Matrikas was very prompt in delivering the elegant journal within 3 days of my registration. Now read more to know what interesting things were awaiting to surprise me in the journal.
Disclosure: I received a free copy of this journal in exchange for an honest review. All opinions are my own and are not influenced by the company or any affiliates.
A brief about Matrikas
Matrikas is a paper product company based out of Sivakasi, Tamilnadu. Their range of products includes office and social stationery, diaries and books, notebooks and journals. All these products are exquisitely designed to feast the creative minds.
The Creative Woman's Journals
Matrikas has come up with four inspiring woman's journals.

Butterfly(Pink Journal) – To Dream
Dragon Fly(Grey Journal) – To Fly
Feather(Red Journal) – To Write
Fish(Blue Journal) – To Glide
Why I Chose The Butterfly Journal?
My love for words commenced very early in my life when I was around 8 years old. Those days, I was elated to scribble down the musings of my heart not knowing what I was actually up to. But later some of my dear ones spotted them as poems and I was overwhelmed and perplexed at the same time. Seriously? Am I writing poems? Maybe they were trying to persuade my little heart.
Till date, I am not sure whether they were poems or a meager reflection of the random thoughts juggling all over my mind. Yet there was one thing that I was sure about. I love to pen down and there is certainly a narrow string connecting me to the writing world. I visioned to become a writer.
Days ran by and I was pushed into the corporate world with no leisure to think anything out of the box. My writer dream was popping out often with intermittent scribbling of so-called poems, overcrowded personal diaries and occasional write-ups.
There will be one day when our dreams and reality will collide.
And my one day was born when I launched this blog revealing the writer face of me. One of my dreams finally came true. But my dreams don't stop here. The dreamer in me is always active.
I personally admire the lifecycle of a butterfly and love to watch it fly. The transformation from egg, larva, pupa to a free flying butterfly impress me all the time. All these made me choose the dreamer woman's journal, the Butterfly. Oh! That was too much story about me. 🙂 Let's get into the real review.
Review of Matrikas Creative Woman's Journal
The moment I opened the package I instantly fell in love with this journal.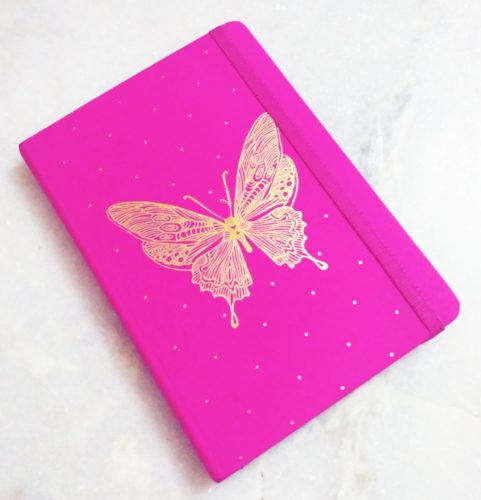 The attractive pink colored satin cover with a butterfly depicted in gold at the center was imposing. The paper quality was good and the pages were labeled with dazzling fonts.
The Matrikas Creative Woman's Journal is an awesome package of many inspiring elements.

There are many ruled pages where you can pen down the most significant notes.
Multiple blank pages for doodling or scribbling your heart away.
The highlight is the 8 adult coloring sheets with intricate whimsical drawings.
You will also find a variety of stickers to reflect your moods and capture your secret lists.
There are pages to list down the books you have read and places you have visited.
A cute safety pouch at the end can keep your most precious belongings.
You also have an elastic for safe locking this pleasing journal.
Interesting isn't it? You have a variety of options to express your thoughts. The adult coloring sheets will help to de-stress from your hectic routine. This journal has become very close to my heart and the best companion to share my dreams and aspirations.
My Verdict
I would happily recommend this incredible Journal from Matrikas to all those aspiring women who love to crack down their musings in a handwritten mode. Matrikas Woman's Journal will be your ideal choice.