Electronic gadgets have become part of our families like our kith and kin. In fact, for many of us, our smartphones spend more time with us than our other family members. It is true at times the pros of having a smartphone over-weigh the cons. There are millions of mobile apps which make our life easy and smarter. Learning has become a seamless process for our children with many kid-centered apps. Today I am going to review one such Kids Learning App – OckyPocky.
Disclosure: I was approached by the OckyPocky team to use their app and provide a review. All opinions are my own and are not influenced by the app owners/sponsors in any way.
The Life blended with Apps
Do your toddler know how to unlock your mobile and access through it? If your answer is Yes! I wouldn't feel surprised. I would only be staggered if it was a No!
Kids in this era, learn everything on a glimpse. The good part is they get a huge exposure to everything and the bad part is again they get a huge exposure to everything. There is no control over what they can see, learn and what they should not.
Google Play Store and iOS App Store is flooded with numerous apps for the kids. But are all these apps safe for your kids to watch and play? Maybe or May not be! So the responsibility is laid on the parents to choose the right apps which their kids could use.
OckyPocky is a children-centered learning app which you can find on Google Play Store and iOS App Store. Let's find out how useful and safe is OckyPocky for your kids.
What is OckyPocky?
WhizKidz Media has come up with this Kids Interactive Learning App – OckyPocky. This app is KidSAFE Seal Certified and is designed for preschoolers in the age group of 2 to 6 years.
Now, what unique things do OckyPocky claim to offer for the tiny tots and their parents?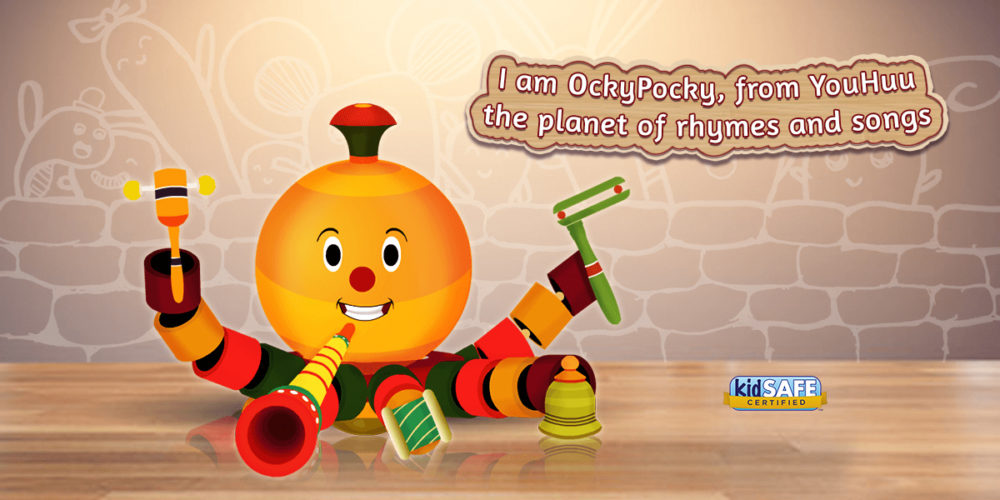 OckyPocky can be used by children all alone in a safe environment without parental assistance. It provides age-appropriate videos/stories/activities which are curated by a team of experts who are also mothers. Parental control helps to set a timer lock which will make sure the kids are using limited screen time.
It offers rhymes in three languages – English, Hindi and Telugu. There is a co-watch zone where Parents can watch interactive and activity videos with their kids. A Magical Proprietary Algorithm detects your child's interest and shows the related videos.
There is also a Galactic Mind Map which shows what characters, cartoons or rhymes your child has been watching and monitor his evolution. You can download your kid's favorite videos which he could watch offline.
Was OckyPocky fascinating my Twins?
Generally, many apps which look impressive before installing doesn't please us equally after the usage. So Let's check out whether OckyPocky lived up to our expectations.
My Experience
I installed OckyPocky and surfed through the app for a while to understand what videos are showcased and how secured are the parental control settings.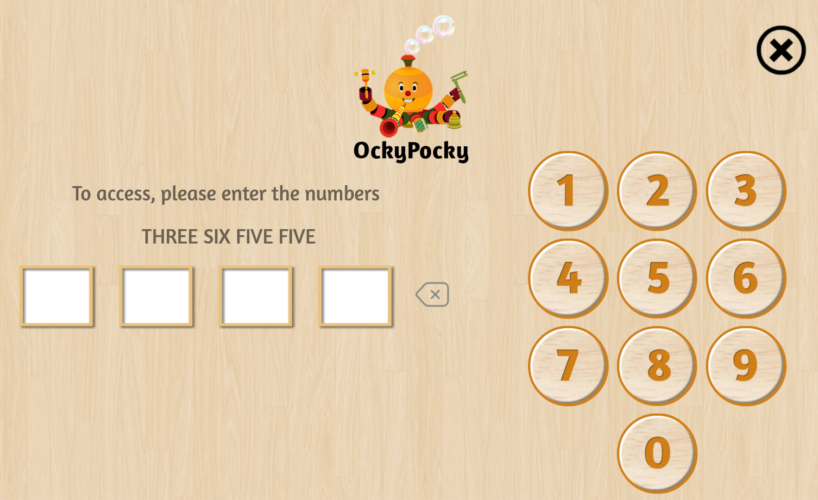 I was able to get into the settings only after entering the numbers which were written in alphabets which generally the preschool kids cannot unlock. Then I had to input my child's name and age based on which the curated videos were displayed.
The next step was to set the time of the day when kids can watch and the number of hours. If kids are opening the app anytime outside this range, a cute bye-bye message pops up saying the time is up.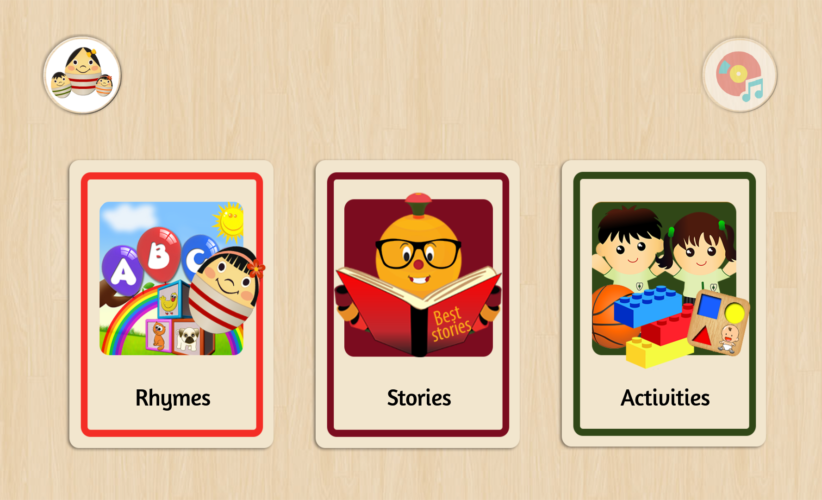 There were three sections Rhymes, Stories and Activities. Each section had the OckyPocky train loaded with videos in each bogie. Kids can easily scroll through it and select the one they would like to watch. They can add favorites and download videos for offline watching(which again can be controlled in settings).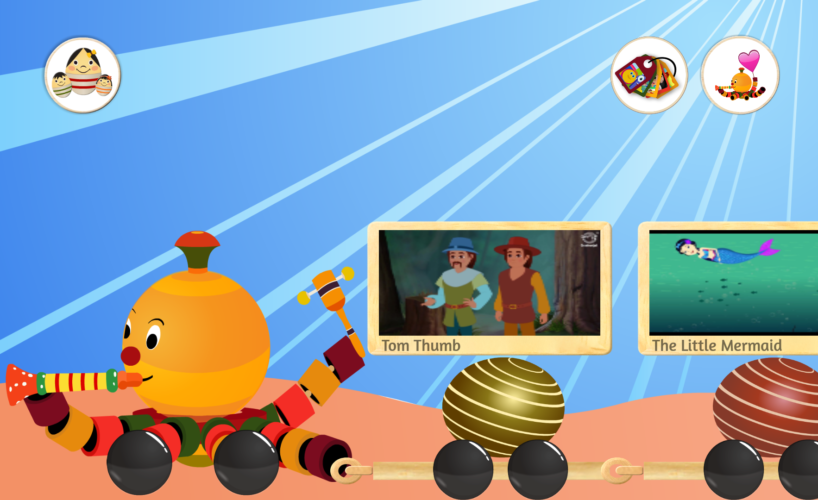 There is a co-watch section in the settings which we can watch with the kids. It presents one interesting video at a time and once we are done with it the next video pops up. The mind map displays the child's activity showing what videos our kids have watched.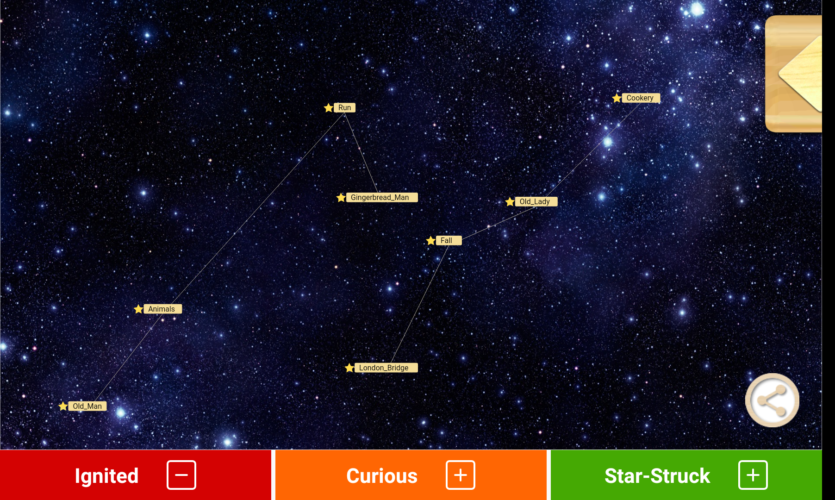 The videos were also good and didn't contain any inappropriate content.
My Twins Reaction
The moment I told my twins, that I am going to let them watch stories and rhymes without my interruption they were jumping with excitement. They liked the background sound and the OckyPocky character.
The fact that they were able to scroll through and select the ones they would like to watch without mummy popping in and checking the quality of the content was the best experience for them.
There were many new stories and rhymes which they have not seen before. Also, they liked the activity videos and were interested to try them at home.
They were a bit let down when the app didn't show up any videos when the screen time set was over. However, it was a win for Mummy! LoL 🙂
Our Likes
Parental controls
KidSAFE certification
Curated videos
Co-watch videos
Design and animation
Favorites and Download option
Child Mind Map
Easy for kids to access independently
Suggestions
OckyPocky has sufficient videos for the kids to watch and their premium package offers unlimited content. But its natural for the kids to look for more and more intriguing stories and activities. They are simply not content even if you present them with millions of content.
To grasp their attention we would suggest to include more videos from different genres with a diverse collection to OckyPocky Library.
From Mommy's side, I would suggest to include a security code like the one you have for settings to make sure kids are not exiting the app on their own. This will ensure they are watching only OckyPocky and are not exiting and surfing through other apps not suitable for them.
Our Verdict
So to answer my question – Did OckyPocky fascinate my Twins? – YES! It Did!
OckyPocky is a new and promising initiative which will make screen times safe, beneficial and efficient in a safe environment.

We would happily recommend you try OckyPocky with your kids.
About in-app purchases from OckyPocky team : We have 30 days free offer running, from then on wards if the user chooses to subscribe, it's Rs.99 per month and Rs.1000 /year for Android users and for iOS it's 300/month and 3000/year.