Hello Mommy friends, This is my second contribution to Twins & Me's Recipe corner. Hope you had a good baking time with my previous recipe Eggless Vanilla Cake. Today's special item from my kitchen is Nutritious & Delicious Eggless Mixed Fruit & Nut Muffins with Wheat flour and Palm sugar.
Muffins with Wheat flour and Palm sugar
Many kids of this generation are picky eaters who shook their heads and keep their lips sealed for any healthy food especially fruits. Even my sons consider most of the fruits as their fearsome foes. So, I planned to incorporate fruits in their diet in the form of their favorite food rather than forcing them to eat it wholly. Then I came out with this interesting recipe "Eggless Mixed Fruit & Nut Muffins with wheat flour and Palm sugar"
Along with fruits, I have used Almonds & Walnuts which are good contributors to the brain development of Kids. Like my Eggless Vanilla Cake recipe, here again I have avoided using Maida and Sugar. Instead I have used home made whole wheat flour and Palm sugar. Wheat flour is rich in vitamins & has high fiber content. Palm sugar is rich in many minerals like potassium, phosphorus, zinc, iron, manganese and copper.
From my experience, If you feel your kids are picky eaters, you should not force them to eat. You need to go in their way and include nutrient rich ingredients in their favorite food. This practice really works with my sons. As a mother I'm also happy about giving my sons a healthy stuff in the way they like it rather than having an endless quarrel with them.
This muffins recipe is a hit with my kids. Hope it impresses your little ones too. Please share your thoughts and feedback with me in the comments section.
If you would like to suggest this recipe to your mommy friend, feel free to share it in your favorite social media.
Now let's get into the making of this Eggless Mixed Fruit & Nut Muffins with Wheat flour and Palm Sugar.
Shop products required to prepare this delicious Muffins recipe
Pin this for Later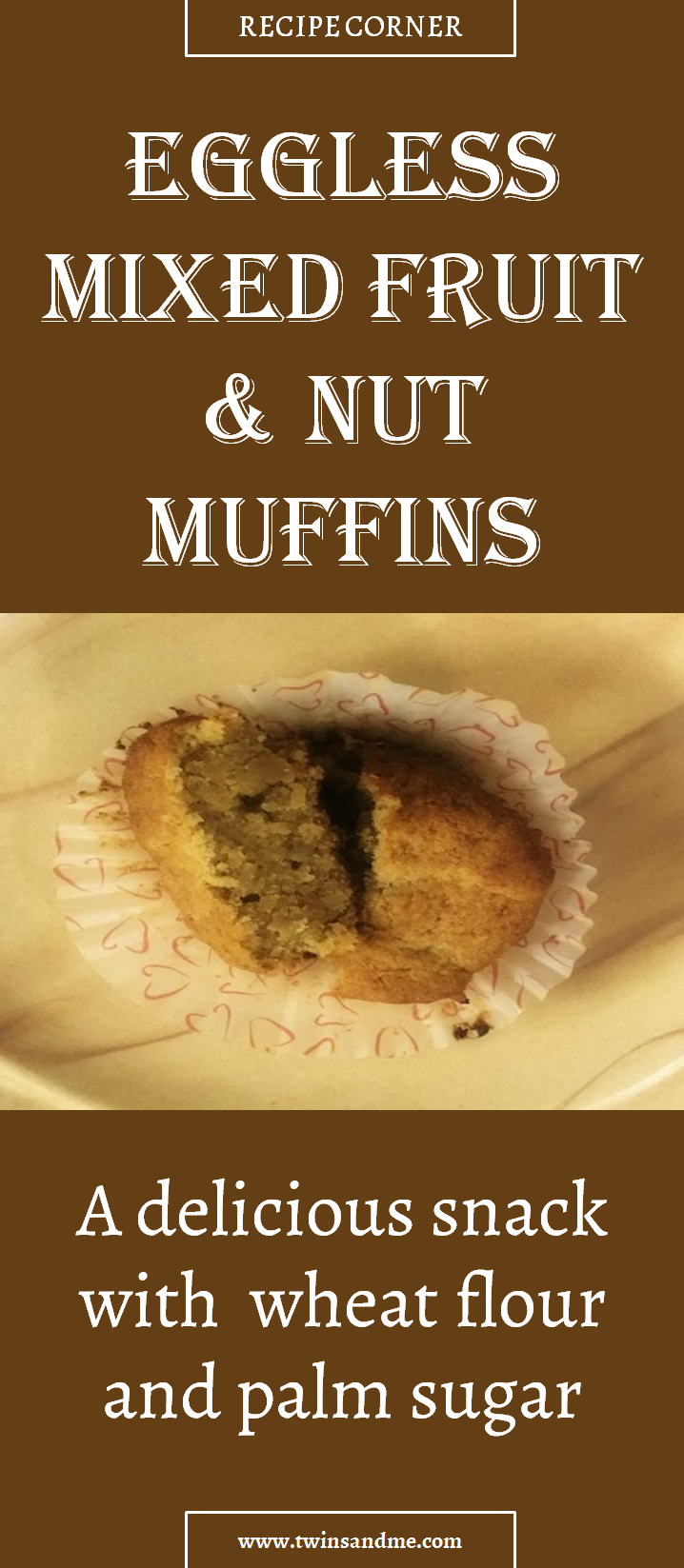 *This post includes affiliate links.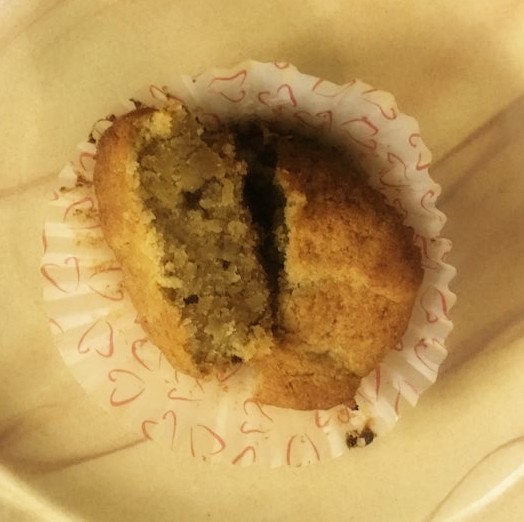 | | |
| --- | --- |
| | |
Keep all the ingredients handy.

Peel off the skin from the apple and cut it into 2-3 pieces.

Cook the apple pieces in a sauce pan with half cup of water, till it becomes soft.

Now mash the banana and cooked apple into a paste and keep the paste mixture aside.

Sieve the wheat flour, baking powder and baking soda together twice until they are combined.

Squeeze the orange and keep the juice ready.

Beat the butter with a mixer on medium high speed for 3 minutes until light and fluffy. You can also use a wooden spatula to stir the butter, but it may take few more minutes to become light and fluffy. Use a spatula to scrap the mixture off the sides of the bowl periodically.

Now add powdered palm sugar and repeat the above process for 3 minutes.

Add Banana-Apple paste to this mixture. Again beat this with the mixer for 1 minute until they are combined.

Now add Orange juice, vanilla extract and coarsely powdered nuts. Mix well with the mixer for 1 more minute until blended.

Now add wheat flour slowly and mix well with a wooden or rubber spatula until it is smooth without any lumps. Now the batter is ready.

Now grease the muffin cups by brushing the bottoms and sides with butter or use paper liners which don't require greasing.

Fill the muffins cases two thirds full.

Preheat the oven to 250 deg celcius. I used OTG (Oven Toaster Griller)

Now place the muffin tray inside and bake it for 15-20 mins at 200 deg celcius until the muffins are risen, firm to touch and a tooth pick inserted comes out clean.

Now your delicious fluffy muffins are ready to be served.
Tips 
You can also use coarsely powdered cashews, pistas or any nuts of your choice.
You can add tidbits of pineapple to enhance the taste.
Preheat the oven until both the rods turn red.
While baking if you feel that the top layer of the muffins darken, then you can change the heating mode to " Heat only the lower rod "
I have used OTG (Oven Toaster Griller) if you are using microwave oven, you can adjust the temperature as required.
Nutrient values
Walnuts and Almonds are rich sources of protein, fibre, iron and zinc. They contain unsaturated fats that help lower cholesterol.
Apple often called as the "miracle food" and "nutritional power house" is rich in fibre content and vitamin C. It also contains polyphenol which functions as antioxidant.
Banana is rich in fibre ,potassium, magnesium, vitamin B6 , and vitamin C.
Orange is a rich source of vitamin C, dietary fibre and pectin.
Wheat is a rich source of fibre, vitamins, minerals and various antioxidants.
Butter is a high calorie food and it contains Vitamins A,D,E,B12 and K12.
Palm sugar has low glycemic. It boosts energy levels and promotes musculoskeletal health.
Side effects
There is no side effect associated with this muffin however it is good to make sure whether your kids are allergic to any of the ingredients used in the making of this Eggless mixed fruit and nut muffins with wheat flour and palm sugar.