Today I am very excited to share my first recipe – 'Eggless Vanilla Cake with Wheat flour and Palm sugar' with Twins and Me readers. If you are new to baking cakes, this will be a super easy recipe to start with. If you are already a master in baking, this is a slightly different recipe without the usual ingredients which you can give a try.
A nutritious cake with wheat flour and palm sugar
The main ingredient of any cake recipe is Maida (Refined White Wheat flour). I hope many of you will be aware that maida is a slow poison. Maida has a very high glycemic index. This means it will release sugar into the bloodstream very quickly. Frequent usage of maida in your diet can make you vulnerable to type II diabetes. So this is enough reason to look for an alternative to maida and my choice is whole wheat flour ( Here also I would insist you to use home made whole wheat flour, if possible. ) Whole wheat flour contains several vitamins and high fibre content.
And we all know table sugar is doing more bad than good for our health. So I replaced it with palm sugar in my recipe. Palm sugar has a very low glycemic index. I have also used ghee or clarified butter (which is also homemade) instead of cooking oil.
So I have tried to substitute the usual ingredients with nutritious alternatives. This doesn't make the taste and texture of the cake any lesser.
I am eagerly waiting for you to try this 'Eggless Vanilla Cake with Wheat flour and Palm sugar' and share your thoughts with me. (in the comments section)
For the beginners
Cake is always a favorite snack for any little kid. Even many adults have a craving for yummy cakes. As mothers, you would love to cook anything and everything your kids are fond of. And cakes will be your dream food, through which you will long to impress your little ones. Yet all the whisking, baking and fine crafting stuffs would have made you to stay away from it for so long. Relax, I have some good news for you!
Baking cakes is not only meant for some trained craftsmen. It may look very intricate demanding your expertise. But the truth is you wouldn't know it is so very simple, until you bake your first cake. It's time to set aside your reluctance and try this simple, yummy and nutritious 'Eggless Vanilla Cake with Wheat flour and Palm sugar' right away. Your kids are going to love it 🙂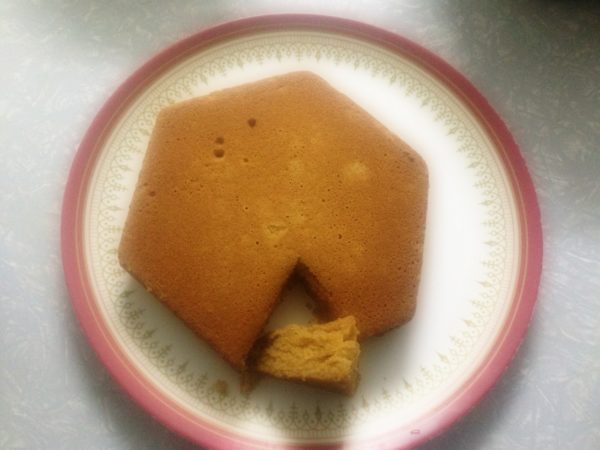 | | |
| --- | --- |
| | |
Keep all the ingredients ready and handy.

Sieve the Wheat and keep it aside.

Sieve the Palm sugar and keep it separately.

Now whisk the curd in a mixer for half a minute or until it is smooth.

Add the sieved palm sugar to the curd and whip them together until the palm sugar dissolves completely in curd.

Add baking powder and baking soda to the whipped mixture and mix well.

Set the mixture aside for 5 minutes and allow it to raise.

Add Ghee and Vanilla extract to the mixture and mix well.

Now add the sieved wheat flour slowly and whisk until the batter is smooth without any lumps.

Transfer the batter to a greased pan. I used a 6 inches pan.

Preheat the oven to 250 deg celcius. I used OTG (Oven Toaster Griller).

Now bake this at 220 deg celcius for 20 minutes.

Insert a tooth pick into the center of the cake and if it comes out clean with no streaks of the batter, then the cake is done.

Allow the pan to cool for 10-15 minutes.

Now transfer the cake to a plate.

Your Yummy, Moist, Spongy, Fluffy and nutritious Eggless Vanilla Cake is ready to be served.
Tips
Preheat the oven until both the rods turn red.
While baking if you feel that the top layer of the cake darkens, then you can change the heating mode to 'Heat only the lower rod'
I have used OTG (Oven Toaster Griller), if you are using a microwave oven you can adjust the temperature as required.
Nutrient values
Since we have replaced Maida (Refined white wheat flour), Cooking oil and Sugar with Whole wheat flour, Ghee and Palm sugar respectively, this cake will definitely be nutritious compared to the cakes baked with the usual ingredients.
Side effects
There is no direct side effect associated with this simple cake. However it is good to make sure, if your kids are allergic to any of the ingredients used in the making of this Eggless Vanilla Cake.