Hello Twins & Me Readers, Euphoric to meet you all again! My last two recipes were for the sweet toothers! This time I have come up with a different taste. I am going to guide you with an enthralling healthy recipe, Methi Palak Coriander Paratha. WOW Isn't it? It has the health benefits of both Methi (Fenugreek leaves) and Palak (Spinach).
Methi Palak Coriander Paratha
A balanced diet for your kids should often include Spinach in it, as it is a complete nutritive food and can even serve as a main dish.
Paratha is an unleavened flat bread originated in the Indian subcontinent. They are made by baking whole wheat dough on a tava and shallow frying it.
At the outset, I used to prepare Palak parathas and Methi parathas separately. But if I do both the Parathas in the same week, my little one will shoot a boring look at me. However I wanted to reap the nutritive values of both the greens. It is when I felt, why I shouldn't try a paratha which has both Methi and Palak, so that we can gain the goodness of both in one shot with a varied taste.
Another specialty to this dish is that the greens are fresh from my Terrace garden. I always feel excited to use vegetables and greens from my garden. They are fresh and pesticides free. Ah! The home grown vegetables have their own supreme flavor.
Are you aware that some spinach varieties lose about 90% of their nutritive value within a day? It is very less than the minimum time taken for the veggies to reach us from the farm. Most often veggies brought from the stores are grown in substandard soil with inorganic fertilizers. Hence such vegetables will lack in nutrients.
Mommies please invest your time to grow veggies at home, so that we can ensure our food is free from toxin.
This Methi Palak Coriander Paratha is best suitable for lunch boxes and it goes well with thick curd. Your kids will surely enjoy it.
Found this recipe interesting? Feel free to share it with your family and friends.
I am always delighted to know your feedback! Try out this dish and share your experience in the comments section.
Shop for products used in this yummy Paratha recipe
Pin this for Later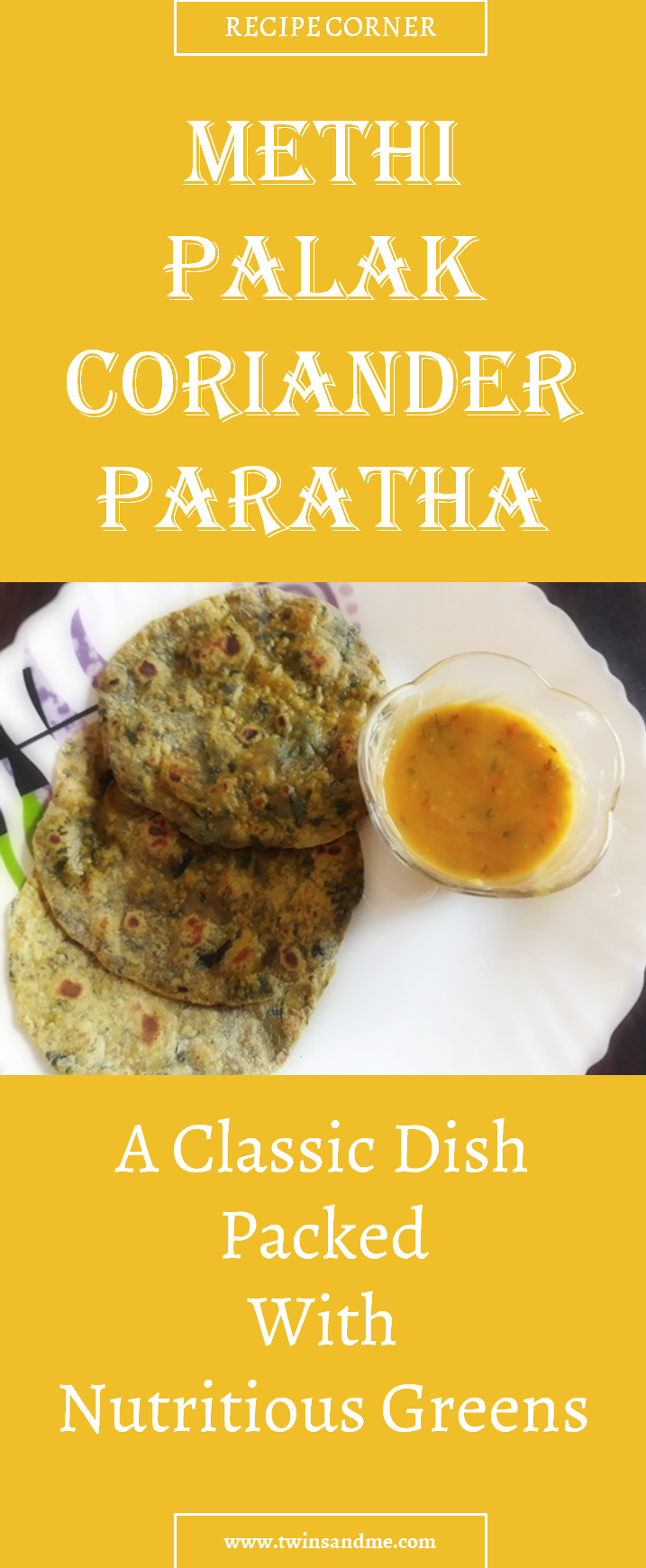 *This post includes affiliate links.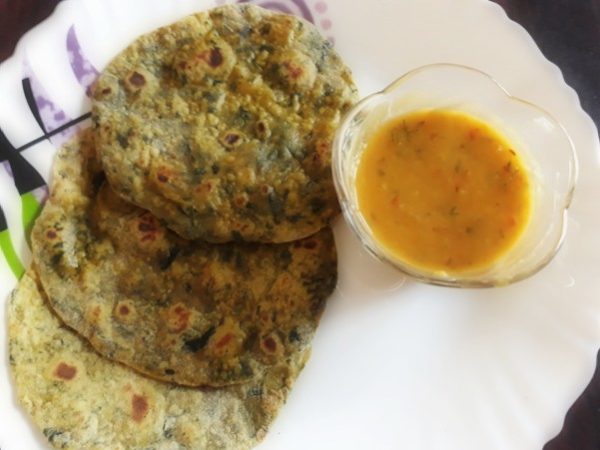 | | |
| --- | --- |
| | |
Keep all the ingredients ready.

Wash the Palak leaves thoroughly and drain it.

I have used a product called Steam it from Tupperware to steam the Palak leaves. You can use your idli pan for the same purpose. Steaming the spinach will retain all the nutrients rather than boiling in hot water and straining it.

Puree the spinach in a blender.

Wash the Methi leaves thoroughly and drain it. Chop the Methi leaves roughly.

Heat a pan. Add little oil. Once the oil is hot, add cumin seeds.

Once the cumin seeds splutter, add the chopped Methi leaves. Cook it for few minutes.

In a bowl, take whole wheat flour. Add the pureed spinach, cooked Methi leaves and chopped coriander leaves. Add all the dry spice powders mentioned in the ingredients list. Add salt as required.

Knead it into a soft dough using sufficient water. Rest it for minimum 20 minutes.

Divide the dough into equal portions. Roll them into balls. Sprinkle little flour and roll the ball. Flatten the ball and roll them again. Dust with wheat flour to prevent it from sticking.

Heat a non-stick tawa or griddle on a high flame. Place the Paratha on the hot pan. Cook it until you find bubbles.

Then flip it and cook. Cook both sides until you find light brown spots. Smear ghee as required.

Now serve the hot and yummy Methi Palak Coriander Paratha. I have served it with Dal fry. It also goes well with curd or pickle.
Tips
We should be very careful to wash the greens properly before cooking, as the store bought greens may contain high amount of pesticides in it. You can follow this approach to wash the leafy veggies thoroughly. In a big bowl full of water, add 2 big spoon full of white vinegar and 2 big spoon full of salt. Soak the greens in this mixture for 30 minutes, take it out and rinse / wash with cold water, the leaves of greens will be absolutely clean.
While storing the Spinach in fridge, do not store it in plastic bag. Instead wrap it in paper and then store. Veggies produces moisture, so if it stays in plastic, the moisture will rot the leaves, while paper will soak all moisture.
Nutrient values
Spinach:
Has abundance of Vitamin K, Vitamin A, magnesium, folate ( Iron), calcium, Vitamin C, Vitamin B2, potassium, and Vitamin B6. Folate is also good for cardiovascular system. Magnesium helps to lower high BP.
A great source of protein, phosphorus, vitamin E, zinc, dietary fiber, and copper. Good amount of selenium, niacin, and omega-3 fatty acids are also present.
Spinach has lots of antioxidants in it. The antioxidants keep cholesterol from oxidizing and saves blockage of heart's arteries.
Inflammatory diseases such as arthritis, osteoporosis, migraine headaches, and asthma are crossed out by spinach as it has anti-inflammatory properties.
Methi leaves:
Helps to control diabetes.
Stimulates breast milk production.
Balances cholesterol level.
Coriander leaves:
Very good for digestive system.
Promotes liver functions and bowel movements.
Lowers bad cholesterol and increases good cholesterol.
Contains high amount of iron essential for curing anemia.
Has vitamin K in it which is good for the treatment of Alzheimer's disease.
Side effects
People who have kidney or gallbladder problems should be careful about eating green leafy veggies. The oxalates in spinach sometimes interfere with the absorption of calcium.