Hello Twins & Me readers, Happy to meet you all again. Hope your kids enjoyed my previous recipe – Sweet Banana Roti. I am back now with one more interesting and healthy recipe. Today's special from my kitchen is Sprouted Green Gram Sweet Paniyaram.
Sprouted Green Gram Sweet Paniyaram
This is yet again a favorite dish for my daughter and even her friends gobble it when she takes it to school. She dithers to eat when I make regular 'sundal' with green gram. But she is much excited when green gram comes in this version.
Green gram is also referred as Mung bean. I have used sprouted green gram in this recipe, as it is healthier than the regular whole green gram. Sprouts are germinated seeds of legumes or grains which are full of rejuvenating and health promoting qualities. Sprouts are known as health rejuvenators and mood fresheners.
Sprouted Green Gram Sweet Paniyaram will be an ideal addition to your kid's lunch box. I hope your kids will relish this tempting nutritious recipe.
If you savored this recipe, please feel free to share it with your mommy friends.
I would love to hear your kid's reaction too. You can pen down your thoughts and feedback in the comments section.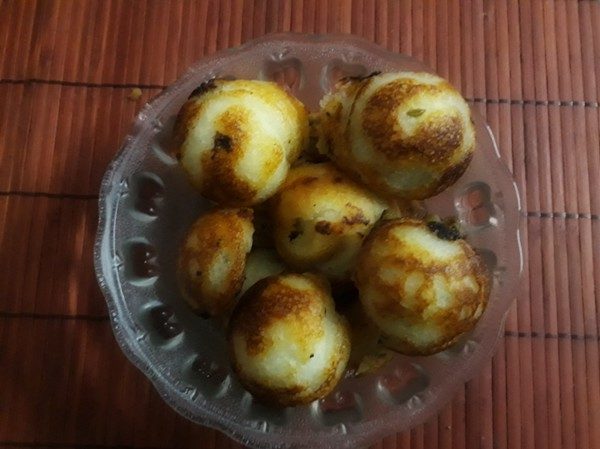 For Idli / Dosa Batter Preparation
| | |
| --- | --- |
| For Idli / Dosa Batter Preparation | |
Idli / Dosa Batter Preparation
Soak Idli rice till it is completely immersed in water.

Soak urad dal and fenugreek seeds in a similar way.

Soak both for minimum 1-2 hours.

Now grind Urad dal in a grinder. Grind until it becomes a fine paste.

Then grind soaked Idli rice. Grind until it becomes lightly coarse. Don't grind it into a fine paste.

Mix both the batter and add salt.

Leave the mixed batter for atleast 8 hours for fermentation.
Mung Bean Sprouts Preparation
Wash the mung bean thoroughly. Soak it in water for atleast 8 hours.

Wash the soaked mung bean. Drain it completely and transfer it to a container. Close the container. In a day or two, it will sprout on its own.

If no sprouts are seen after the first day, rinse the green gram, drain it and transfer to the container again. Depending on the temperature conditions the number of days it will take to sprout will differ. In general it will take 1 or 2 days.
Have all the ingredients set to start the preparation.

Keep the sprouted green gram ready. [This is the picture of sprouted mung bean I had after 2 days]

Boil the jaggery in water. Strain the jaggery solution to remove the impurities.

Grate the coconut and cardamom together in a mixer

Wash the sprouts thoroughly. Pressure cook the sprouted green gram in a cooker for about 8 to 10 whistles. Add a pinch of salt to enhance the sweet flavor. Don't add excess water while cooking as we are not going to strain the cooked green gram.

Green gram should be completely cooked. It should be in a mashing consistency.

Add the jaggery solution and the grated coconut to the mashed green gram.

Cook the above mixture until everything is completely blended.

Now the stuffing is ready
Sprouted Green Gram Sweet Paniyaram Preparation
Heat the paniyaram pan. Add little oil or ghee.

Pour idli batter in the fissures until it is half filled.

Place sufficient stuffing over the batter.

Pour little batter over the stuffing in such a way it covers it. You can use a spoon or your hand. I generally prefer using my hand.

Sprinkle oil or ghee. Cook it in slow flame until it becomes golden brown on both sides.

Now the yummy & delicious Sprouted Green Gram Sweet Paniyaram is ready to serve.
Tips
You can make the stuffing part the previous day and refrigerate it. Next day, you can use it to make the Paniyaram. That will save your time in busy mornings.
You can use the regular idli / dosa batter what we use at home. No special preparations are needed.
You can also make Sprouted Green Gram Sweet Idli in a similar way.
Instead of whole green gram, chana dal can also be used to make the stuffing.
Nutrient values
Rice contains a lot of carbohydrates that gives your kid's body the energy they need.
Urad  dal is one of the richest sources of proteins and vitamin B. It also has iron, folic acid, calcium, magnesium and potassium.
Sprouted green gram is a good source of fiber, vitamins, minerals and enzymes. It delivers a boost of vitamin C and K. Vitamin K is essential for the process of blood clotting, builds strong bones and prevents heart diseases.
Sprouts contain a decent amount of vitamin A, antioxidants and iron which is proven to promote healthy hair growth. They contain many nutrients which maintain the health of the skin and enhance its glow.
Starch present in the sprouts converts into glucose, fructose and maltose thereby enhancing the digestibility and making it a superb food.
Jaggery acts as a cleansing agent and purifies blood. It contains many anti-oxidants and minerals like zinc and selenium.
Jaggery aids digestion and minimizes constipation. It is an energy booster and cures cough and cold.
Side effects
Rice, Urad dal and Jaggery are not allergic in nature. Green gram sprouts can carry bacteria. So raw sprouts should be avoided for children. Kids can eat sprouts in a cooked version.
Before preparing this recipe, just check if your kids are allergic to any of the above ingredients.