A child who reads will be an adult who thinks. But with all the gaming apps, animated movies and play-stations to entice our children, it looks totally unfeasible to make them read books today. They are living in a fast-moving world and are too lazy to pick a book and read it. Amidst this powerful digital era that is controlling and rushing your little one's mind, is raising bookworms really possible? How to help your child find his passion for books? How to encourage your child to love reading?
The Importance of Reading
Reading books can bring an incredible change in your child's life. It is simply not another hobby which is meant to squander their time. Rather it does more good to their mind and body than any other leisure pursuit.
Reading helps to,
enhance concentration
improve language and vocabulary
kindle imagination
acquire knowledge
strengthen memory
enable writing abilities
reduce stress
enrich logical, analytical and emotional quotient
work-out and refresh their little minds
and many more
So it becomes an absolute necessity to sow this impeccable habit in your kids and feast their tiny brains. Reading will be a perfect way to deviate from the gadgets and reduce screen time.
---
Read : 5 Places Where Parents Should Put Their Smart Phones Down
---
Tips for Raising Bookworms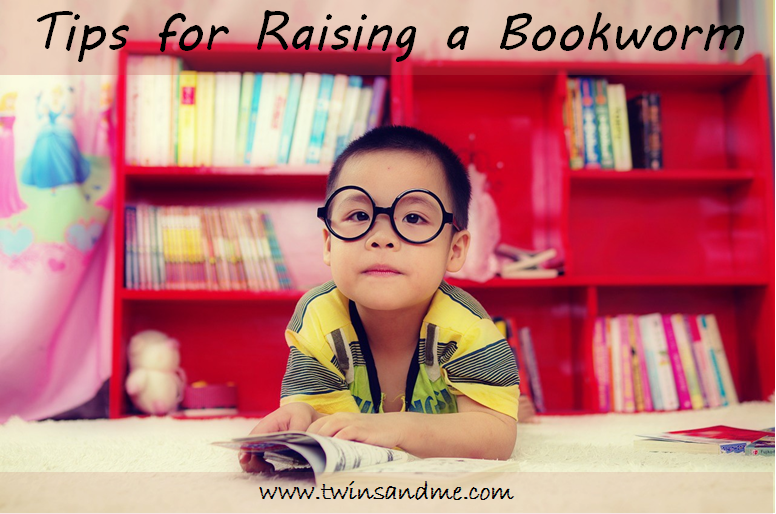 Children are made readers on the laps of their parents! – Emilee Buchwald
This quote sums it all. You need not move mountains to blossom this love for reading. All you have to do is – take those tiny steps at the right age.
Introduce Books Early
The first step in raising bookworms is to introduce books as early as possible. Do you know that your three months old can enjoy reading books? Now don't wonder if I am a screwball!! LoL 😉 This is true.
If you are bringing the concept of books and reading at a very early age the roots for a future reader will be implanted deep and sturdy.
Catching your child young is not only for reading but is applicable to everything. Whether it is creating healthy eating habits or teaching moral values or discipline, it will be certainly easy to teach a younger child than correcting an older one.
Better late than never. Pick a book and start reading to your kid on this good day.
Choose the Right Books
Now when I meant you can read even to your three months old, I didn't imply reading a full-length storybook. If you do that, he will be totally quizzed what you are wittering about?
Before opting for a book, you should do some groundwork. What will fascinate a young baby? Colors, big pictures? Yes!! That is what you should introduce. Choose the big board books with colorful pictures which will attract your little one.
This is pertinent to all kids. Select the right books apt for your child's age.
A toddler will love touch and feel books or pop up books. A preschooler will be attracted to animal or fairy stories or rhymes. A child who is learning to read will be happy to try those tiny tales which come as 'learn to read' series. An older child will be captivated to read Enid Blyton or Nancy Brew or Geronimo Stilton series. And teens will be interested in fiction, adventures, science, astronomy and even biographies.
If you are not picking the right books, you may be inadvertently creating a disinterest or aversion towards books. So pick that book which will inspire your little reader.
Make Reading Fun
When it comes to toddlers and preschoolers, storytelling sessions play a major role in raising bookworms. The fact that they get to listen to an interesting story, followed by games and activities will certainly thrill the buzzing bees.
Take your little one to regular story
telling classes or conduct your own sessions at home. You can even invite kids from your neighboring community to make it more amusing.
When you are reading a story, you have to make sure many fun elements are loaded. The best way to get your child intrigued in reading is by blending it with a fun quotient.
Read aloud with expressions, body movements along with raising or lowering your voice as needed.
Use different voices for different characters in the story.
Imitate and make funny sounds when it involves animals or other creatures.
Encourage conversation during the storytelling session. Let them question or clear their doubts, ask predictive questions like what do you think will happen to that character or How will the hero win the bad man in the story etc.,
At the end try to enact the story with your kid.
Reread if the kids demand to or reread their favorite books.
Make these storytelling sessions an absolute fun so your kid will be looking forward to it every day. Bring out the child in you and relish with your younger one.
Enacting the Stories
Give life to the story by motivating the kids to perform it. After every story session, let the kids choose a character from the story and stimulate them to act it out. This in addition to boosting their excitement and interest will also improve their vocabulary, language, confidence and social skills.
Enacting the story will be more effective when you take a role from the story and play it along with your kids.
Movies or eBooks vs Paper Books
Digital era has made reading even more simple through kindle and e-books. After your child has become a fierce reader, he will be happy to read books in any form. But when you are in the process of raising a reader, trust me paper books will get your child more engrossed in reading than e-books.
Nowadays, many children books are created as movies. If your child gets to view the movie first, before reading the original book, he will definitely lack the interest to read. So choose to read a story before showing that as a video. This will help your child to watch his imagination getting a visual form.
Paper Books are always the Real Books.
Libraries and Book Stores
One significant key to raising bookworms is to give access to numerous real books. The very first thing you should do is enroll in a nearby library which has a good collection of books that will be suitable for your child.
Pay regular visits to the library along with your kids.  For very young children you can choose the right books and for older ones, you can let them pick the book they want to read with your guidance. Taking them to a bookstore or a seasonal book expo that is conducted in your city will also help.
Constant exposure to a variety of books is what your child needs. It's time to become a member of a library if you are not already one.
Let Them Watch you Reading
Children follow your Example, not your Advice.
Raising bookworms will become a reality only when you discover the value of reading and practice it yourself. Your child should see you buying your favorite books and reading on a regular basis.
Discuss the books you read, if it will be germane to their age. Trigger a conversation about what your children read, their review or opinion about the book. Kindle their thoughts and relate it to everyday life.
Be a bookworm to raise a bookworm.
Make Reading a Passion
Let your children realize the power of reading and help them to passionately grab their books. Exhibit the value of books in every possible way. Like, you can gift books instead of toys or dress for your children as well as for other kids. Make reading a routine in their everyday life. There could be a dedicated hour of reading every evening or before bedtime.
For raising bookworms you should make your child to Think, Walk, Talk, Laugh and Sleep with Books.

---
Read : Saying No to Your Child – Impression of No on Parents and Kids
---
Our Secret Technique
Now I don't want you to leave with these pointers alone. I would like to share that concrete technique which worked for our kids.  Puzzled what is that little secret for raising bookworms? It's something pretty cardinal – Set up your child's Mini Library.
Yes, this simple routine will make raising bookworms so easy-peasy. Children will feel more connected to the books if they own it themselves. In addition to fetching books from the library which you have to return back, you can buy two or three books on a monthly basis.
But don't get the books just like that, you should keep a twist which will make it more tantalizing for your tiny tot. Here is what you should do.
Get a piggy bank for your kid.
Give some money on a daily basis and ask your child to save it in the piggy bank.
By the end of every month, collect the money from the piggy bank, take your child to a bookstore, let him choose and buy his favorite books.
Invigorate him to finish reading those books before the next purchase scheduled for the following month.
Encourage him to list out the next set of books he would love to buy.
Set up a cupboard dedicated to your kid's books and keep adding books to his mini-library every month.
I have personally practiced this and it is doing wonders in raising my tiny bookworms. This method has inculcated saving habits, decision-making abilities, sense of responsibility in maintaining their own library and more than everything the love for reading has significantly grown to greater heights.
Now, why should you wait? Try this lucid and effective technique and let me know your results in the comments section. I will also be happy to hear other effective tips which worked for you in raising your bookworms.
You can also show your love for reading by sharing this article.
Love for books and reading habits are diminishing in this digital era.

Only we parents can inculcate this imperative habit in our children.

It is indeed our duty to save this relinquishing indispensable resource for our future generation.

Happy Reading!!
Pin this for Later